Location and transport
The QUT Health Clinics are located at 44 Musk Avenue, across the road from Woolworths in the Kelvin Grove Urban Village.
Our Optometry Clinic can be found on the Ground Floor, while the Podiatry, Exercise Physiology, and Nutrition and Dietetics Clinics are on Level 1. The Psychology and Counselling Clinic sits on Level 2.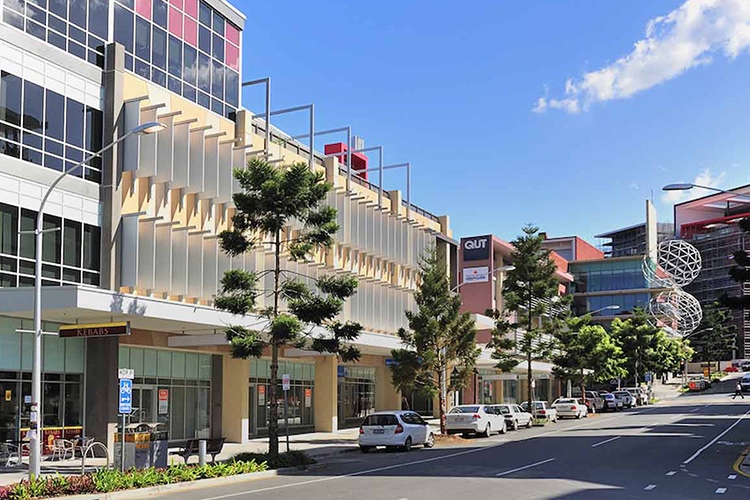 Complimentary undercover parking is available for clinic appointments. Upon booking confirmation, a parking permit will be sent to you or may be collected from reception on arrival at your appointment (please allow an extra 10 minutes to collect the permit). The permit must be displayed on the dashboard of your vehicle to avoid a fine.
Entrance to the car park is via Blamey Street. Drive down the ramp, past the delivery dock to the boom gate. If the boom gate is down, press button 2 on the QUT key pad and hold for 3 seconds. The phone will ring and the boom gate will open. Drive through and turn right, continue up the ramp and park in a QUT designated space only. Maximum clearance is 2.2 metres.
QUT Health Clinics are accessible by wheelchair. Several parking spaces reserved for holders of disability parking permits are located in the basement level of the Clinics building. If you hold a valid disability permit you will still require the visitor permit we will issue you to park in these spaces.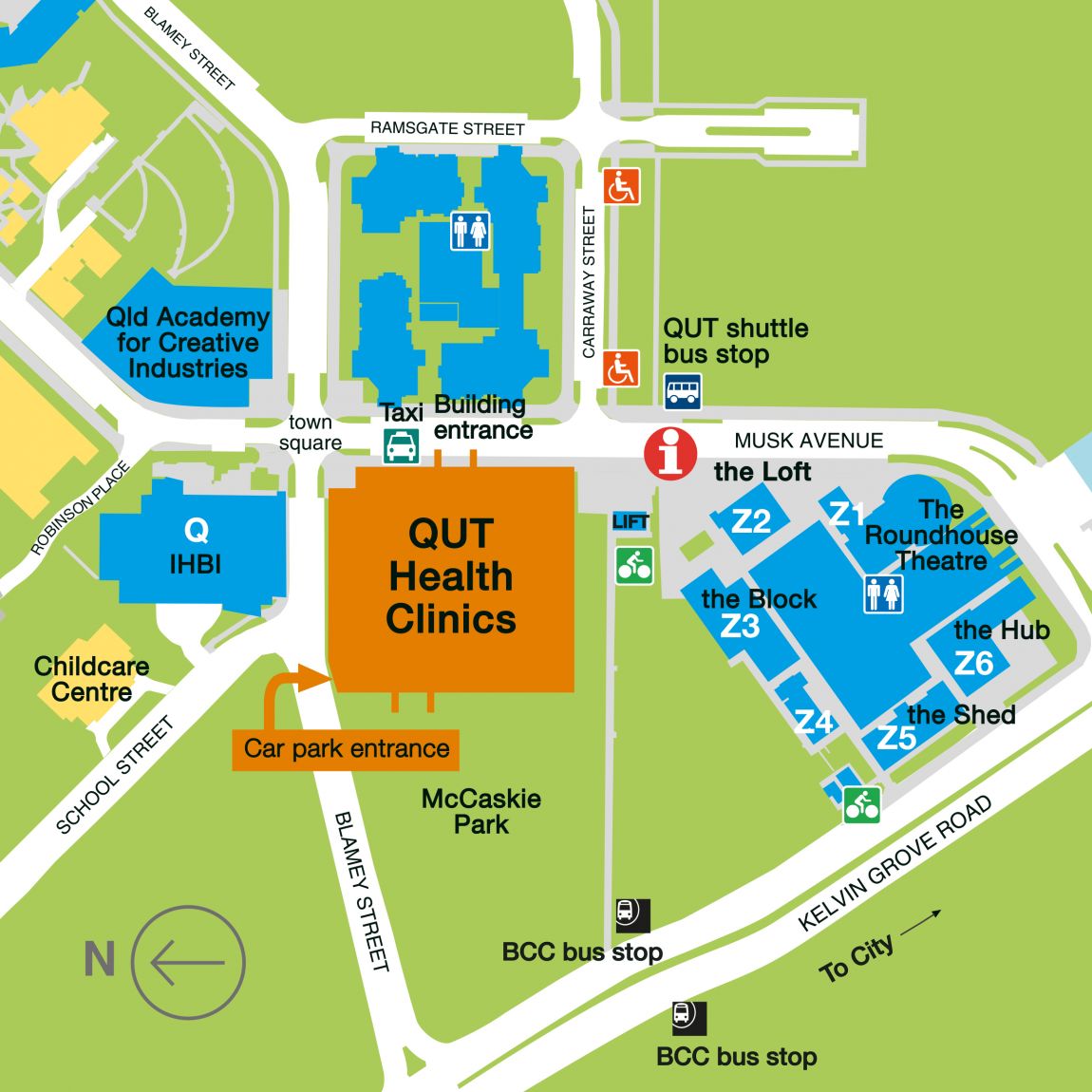 There are several bus routes that travel along Kelvin Grove Rd.
Our closest stops (marked with *) are just a short walk across McCaskie Park.
Alternative stops listed below are 2-3 minutes further away by foot.
If changing from a train or bus at Roma Street station, the best bus to catch is a 390 from busway platform 1, and get off at Stop 12.
Outbound (heading away from the city)
*Stop 12 - Kelvin Grove Rd at Victoria St
Bus routes - 372, 373, 390, N345
Stop 13 - Kelvin Grove Rd near Prospect Terrace
Bus routes - 325, 345, 351, 357, 359, 364, 372, 373, 390, P344, N345
Inbound (heading into the city)
*Stop 12 - Kelvin Grove Rd near Prospect Terrace
Bus routes - 325, 345, 351, 357, 359, 372, 390, P344, S746
Stop 13 - Kelvin Grove Rd at School St
Bus routes: 364, 372, 390, N345
For more information on train/bus services to the QUT Kelvin Grove Campus contact TransLink on 13 12 30 or visit the TransLink website
Connect with us

Find us at
Kelvin Grove
44 Musk Avenue
Kelvin Grove QLD 4059 Australia